Rio Bend Residents, Guests, and Friends
Great times at Rio Bend never end.  We have covered all of the upgrades and improvements this summer, invited everyone to get involved in the outdoor activities and now it's time to get fit with your choice of a wide variety of options:
Rio Bend's Fitness Center is equipped with everything you need to attain your individual fitness goals.  Enjoy the beautiful view of the mountains while working out on our elliptical machines, treadmills or stationary bikes.  You will also find free weights, exercise balls, bench press, torso rotation and a Nautilus NS4000 multi-station weight system.
And if you need a little coaching, our resident fitness expert, Greg O'Donnell, will be offering instruction on the proper use of all equipment. Greg is an avid athlete and recently won the ITU World Triathlon in San Diego this year in his age group.  He is ranked fifth in the world and has been selected to represent the United States in the ITU World Grand Final in London.
If aerobics is your exercise of choice, join us on Monday, Wednesday and Fridays for an hour of getting fit to music. Zumba Gold classes will be led by certified Zumba Fitness Instructor Irene Ortiz.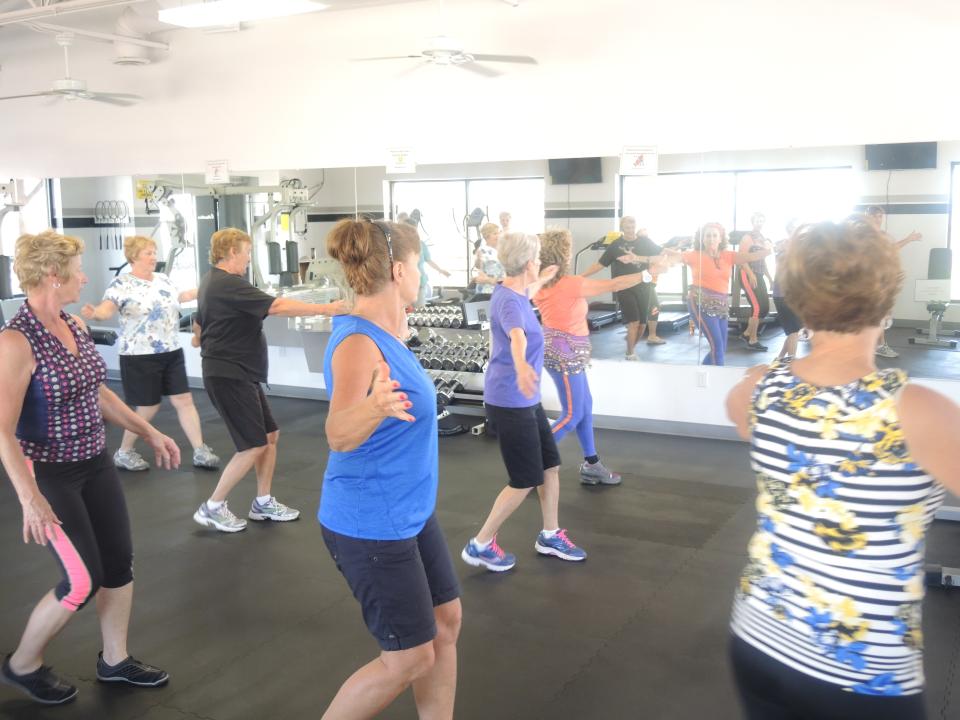 Zumba Gold takes the popular Latin-dance inspired workouts of Zumba and modifies the pace for beginners and seniors. Zumba Gold builds cardio-vascular health and works the muscles of the hips, legs and arms with dance music. Wear comfortable clothes and tennis shoes, bring a bottle of water and meet with us in the Fitness Center for lots of fun.
For those guests with limited physical motion join the "Sit and Fit" exercise class led by Sharon Stirtz. Sit and Fit is a series of easy movements using a chair to stretch and strengthen. This class will teach you simple exercise movements that you can do at home.
Swimming is a good way to stay fit, burn calories and strengthen your muscles. Swimming for fitness can also improve sleep patterns, lower cholesterol levels and improve digestion. Come lap with us in our newly remodeled, heated swimming pool with two new lap lanes.  Each lap lane has tile lines, end t's and crosses. Wave inhibitors have been added between the lanes to suppress the waves made by others.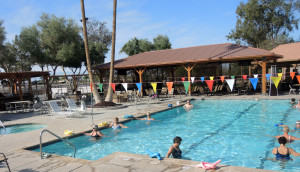 Every weekday at 9:00 a.m. join the Rio Bend residents at our pool for water aerobics. Water aerobics focus on aerobic endurance, resistance training and creating an enjoyable atmosphere with music. This type of exercise is the safest form of exercise for people with arthritis, osteoporosis and weak joints. The best part of water aerobics is that you do not have to be a swimmer to participate and there is no special equipment to purchase. You do not want to miss seeing Harriett – she will be out there to encourage you.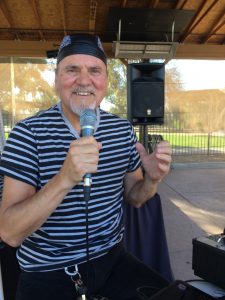 Okay, Karaoke technically is not really a fitness sport, but it is fun. And it can be competitive. Keith Meloche has a great playlist and we are certain you will find a song befitting your talent.  Meet on Thursday at 5:00 p.m. at the portico to entertain and be entertained.
The Imperial Valley Press approached us to determine if there is any interest in a competitive tournament against the residents of Sunbeam and Desert Trails.  They would like this to be an annual event, most likely to be played in January with the first one being at Sunbeam. Please notify Sandi in Activities if you would be interested in participating.
If you have an interest in a specific activity here at Rio Bend we are looking for team leaders to help organize. We offer pickleball, shuffleboard, bocce, sand volleyball, ladder golf, darts, ping pong, and billiards, and don't forget there is also a basketball court at the northwest corner of Rio Bend Lake.
Any way you look at it, Rio Bend is the place for active adults to come, play and enjoy life and health to the fullest!  There is always something great to do here, and we look forward to sharing it all with you!
PS:  Bring your friends with you and take advantage of valuable incentives for you both!