A Beautiful Place to Call Home
Rio Bend RV & Golf Resort offers its guests the very best that RV resort life has to offer. Whether it's inspiration or relaxation that you seek, Rio Bend has what you're looking for. Simply relax and spoil yourself at our luxurious and relaxing 120 acre resort surrounded by wetlands and a bird sanctuary with an 80 acre lagoon. Enjoy the many amenities and activities that Rio Bend and its surrounding area have to offer.
Meticulously landscaped sites,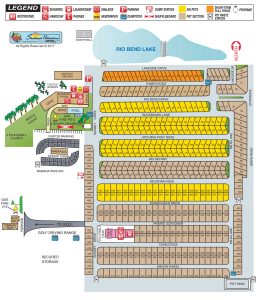 first class facilities, consistently pleasing climate and friendly, caring good-old-fashioned Western hospitality make Rio Bend RV & Golf Resort a clear choice for your premiere RV resort destination.
Download a map of Rio Bend by clicking on the diagram.
Southern California's Desert Paradise
The Imperial Valley is an oasis that provides the United States with much of its winter produce. Its proximity to the Mexican border makes the Imperial Valley an international destination. This rich and diverse area offers a variety of year round entertainment and events, beautiful landscapes, recreational opportunities, and of course the trademark warm sunny winter weather.
**Note if you click on the map you can view a larger version**
Escape To Adventure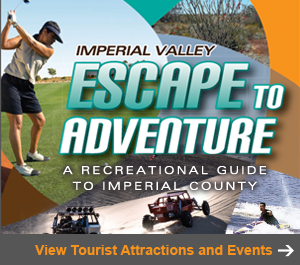 Peace of mind is inspired by careful attention to the mind body and spirit. Such is life at Rio Bend RV Resort. Whether it is for a few days or a lifetime, Rio Bend is home, community, health, recreation and beauty for adults. Rio Bend is located in the beautiful Southern California Desert, known for mild winters. Rio Bend RV Resort is one of the newest, largest and most affordable destinations in the country. And, if playing great golf isn't enough, a plethora of amenities and activities guaranteed to stimulate the mind, exercise the body and raise your spirits high await you!
With brand new sites and facilities, Rio Bend RV Resort is truly distinguished by its opulent surroundings and many conveniences. However, it's the warmth and camaraderie of the guests and residents which best characterizes our world-class golf and RV resort. After all, at a luxury resort hotel, how often is it that you find yourself visiting with the folks next door?
Vacation Resort Community
Rio Bend RV & Golf Resort is the top pet friendly destination RV Park in California and is conveniently located at the gateway to the beautiful Imperial Valley. With a 9 hole par 33 golf course and an eleven acre lake for catch and release fishing for striped bass and catfish. Our premier luxury adult resort offers the perfect blend of quiet solitude and exhilarating activities. Come, relax and spoil yourself at our luxurious 120 acre resort with world class facilities, warm weather and great golf and fishing surrounded by wetlands in sunny El Centro, CA.
Rio Bend is the ideal recreational vehicle vacation resort community for winter visitors. With our meticulously landscaped sites, first class facilities and friendly Western hospitality, Rio Bend is the clear choice for your RV camping destination. Choose from our full hook-up sites with daily, weekly, monthly and annual RV site rentals. From November to March we have men's and women's mixed golf leagues and golf tournaments for our guests to compete in. We also have an on-site golf pro-shop for all your golfing needs. Casual or competitive fishing is available year round.
Our RV Resort and Lake View Golf Course is nestled in a peaceful setting with lakes, mountain views and beautiful greens & fairways. Rio Bend is open year round so you can come and enjoy our resort anytime throughout the year. We look forward to sharing our beautiful travel trailer and RV resort with you and your friends. Come stay in your motor home, fifth wheel, camper truck, travel trailer or park model at a clean, fun and friendly atmosphere. Whether it is inspiration or relaxation that you seek, Rio Bend has what you are looking for.