Happy September to all our Residents, guests and friends!
Rio Bend is enhancing all areas to maintain the finest RV and Golf Resort in California.  For the Golf lovers, last year we replaced all the greens by Simplot Company which matched the quality of Pebble Beach. This year we are replacing the sand traps and bunkers with white sugar sand. The golf shop deck is going to be the place for all to enjoy.  The additional cover with gas heaters, lighting and fans will make the environment comfortable when it is chilly or hot, and screens will block the wind if needed.   A fire suppression hood vent and deep fryer was installed which will allow an expanded menu that will include the ever-popular French fries, onion rings, fried calamari and much more. We won't forget our favorites like the Reuben, the Baja Burger and those delicious barbequed hamburgers and brats. We are installing a sophisticated RO system that will improve the water for coffee, drinks and food that will be healthier and tasty for your enjoyment at the Golf Snack Bar, Pool Bar and the Buckboard Café Kitchen.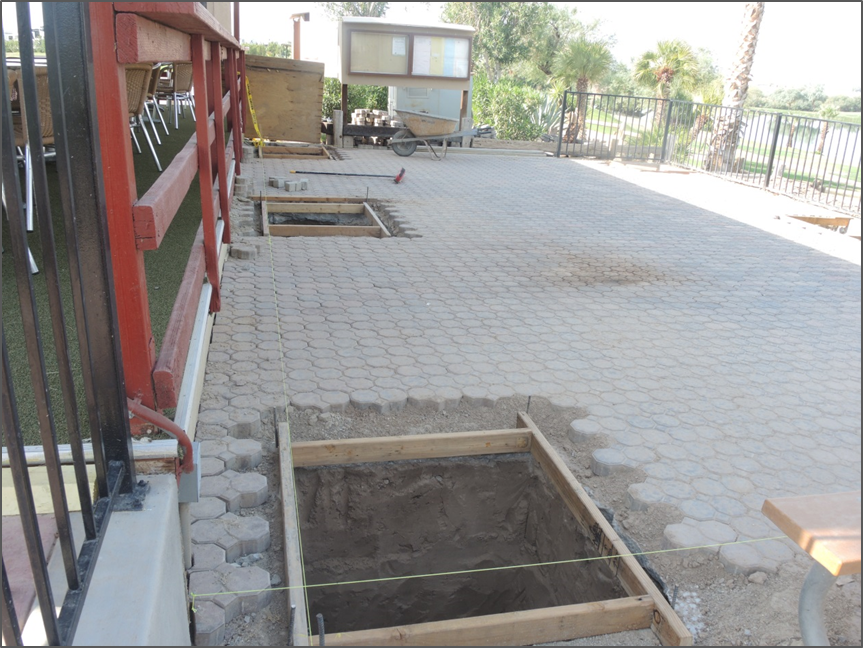 The footings for the patio cover at the newly named
"The Golf Snack Bar"
More materials are being delivered daily for the new patio cover to give us more shade while we enjoy the great food services and a wonderful view of the golf course and putting green.
The fire pit is still there and you will be able to sit out under the stars and enjoy an evening around the fire.
Your pet friendly park just got better!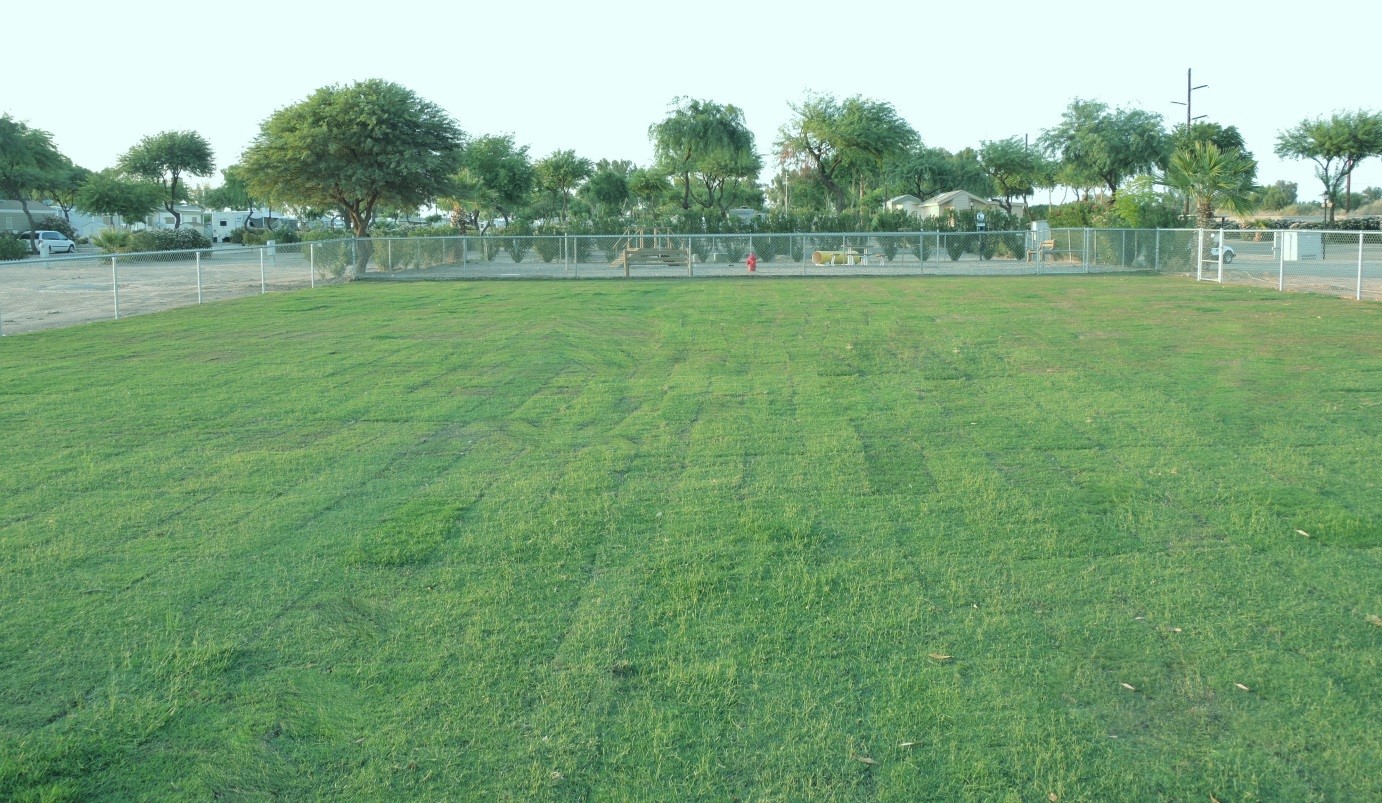 We have added a luscious green run space for your dogs to exercise without damaging their paws.   We still have the playground gravel area with the tunnel, bridge and even a fire hydrant and there are several different places for the "Mom's and Dad's" to sit, too.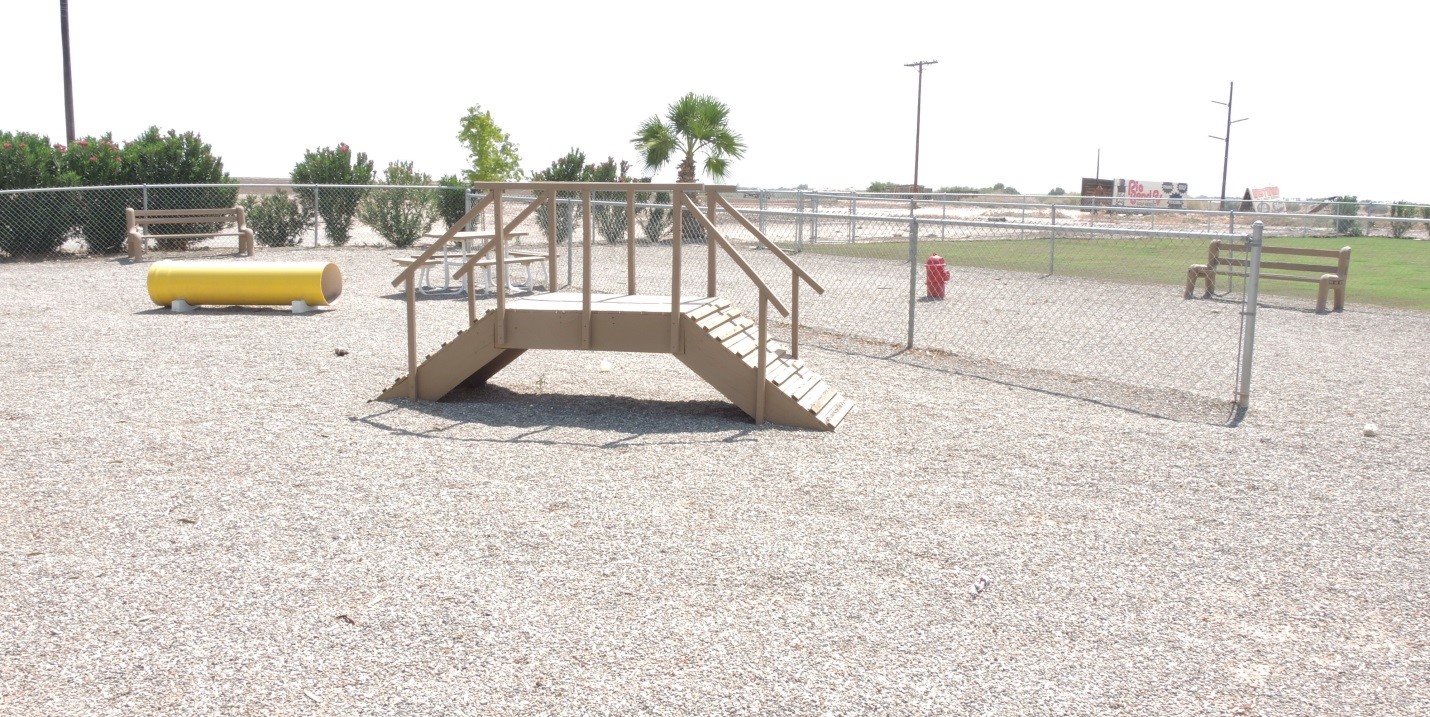 We have a great management team this year including:  Felipe-pro shop, Bob-golf course, Julia-food service, Judy-bar, Ricardo-maintenance and Nancy-office. Sandi will be back with Activities and Carolyn will be here, too.  We also have a wonderful lineup of staff members to assist with guest services.
We are all looking forward to a great season that includes YOU!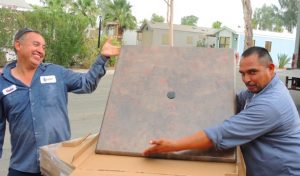 The Pool Bar and Portico are getting a face lift with new chairs and tables.
Victor and Omar give their best Vanna White impression as they show off the couple's tables for the bar area.
We are remodeling the Buckboard Café kitchen, which will allow us to expand our guest services, as well enhance additional serving staff specialists along with the new Point of Sales ordering system, to make your experience more efficient and relaxing for you. You may want to join us for one or all of our meal specials like Julia's Famous Fish Fry, along with Taco Tuesday or join in for the Meatloaf, Steaks, Liver or Onions and other new additions to our menu and special dinners.
Our Café hours will be expanded, our food options will be increased and you will be able to order from your table inside or out or even from the Bar.
We look forward to having all of our returning guests and new guests visit our resorts, and we are confident you will enjoy all of the resort enhancements. Call to book your reservations today and bring your family and friends to enjoy all the luxury of resort living. We offer bonuses and incentives to all who refer your family and friends, as well as new guests to visit any of our Westwind Enterprise Resorts or Community Mobile Home Parks establishments.
Westwind Enterprises strives to provide all of our guests with the most up to date modern amenities, to contribute to the everyday comfort of a resort living lifestyle.
We look forward to meeting you for another successful season at Rio Bend RV & Golf Resort.
Sincerely,
Larry & Diane Kalas
Community Resort Managers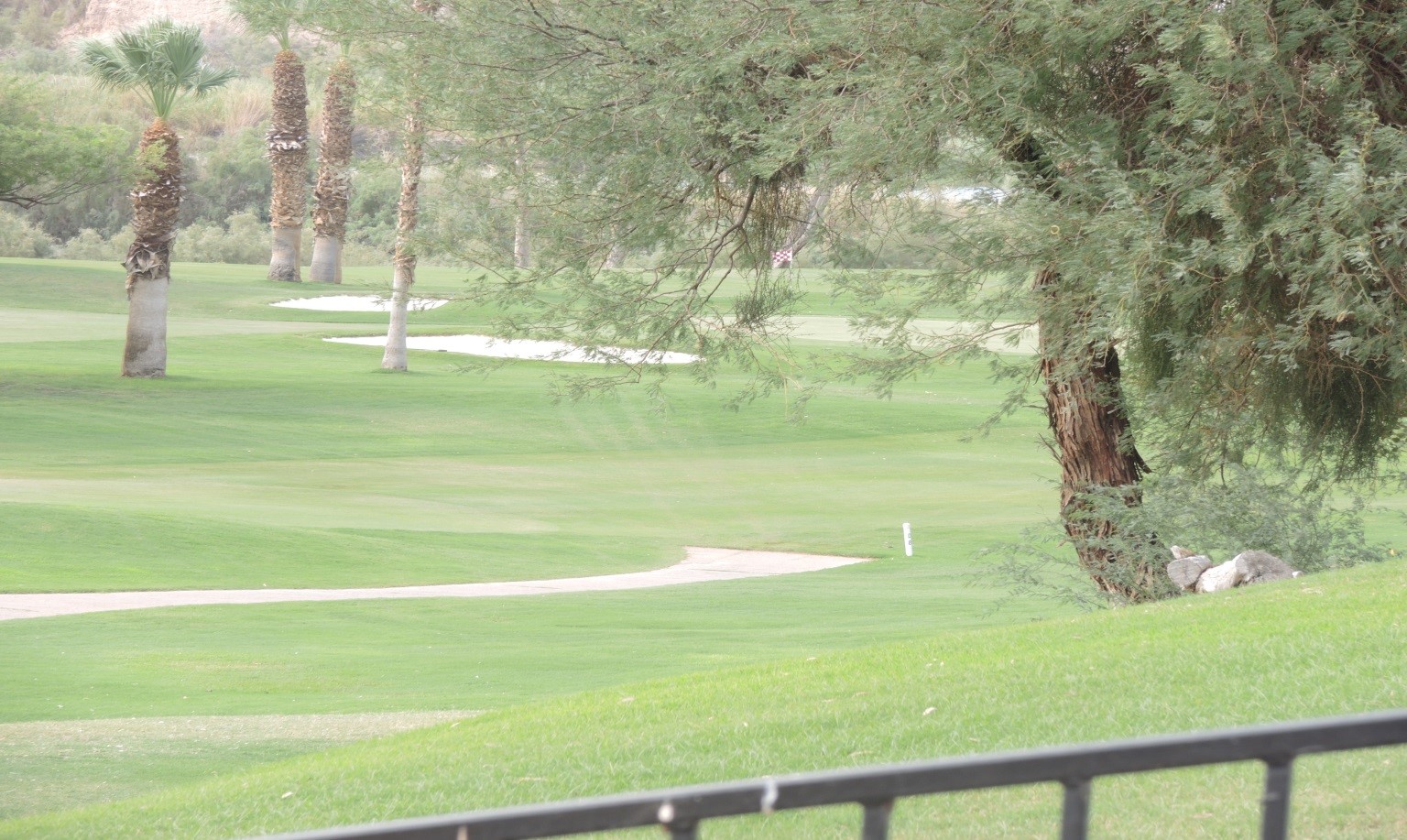 LAKEVIEW GOLF COURSE MEMBERSHIPS
1 MONTH     $325
2 MONTHS   $580
3 MONTHS   $765
4 MONTHS   $880
DAILY RATES
9 HOLES          $25
18 HOLES        $35
Plan to join us for one of our many water activity opportunities starting this October.  We will have Water Aerobics, Aqua Fit, Water Volleyball, Lap Swimming and Pool Zumba.
Some of the Regular Activities at Rio Bend
Art for Fun
Aerobics
Billiards
Bingo
Bridge
Bible Study
Cards
Ceramics
Crafts
Cribbage
Choir Practice
Church
Darts
 Jewelry Making
Pottery Wheel
Painting
Puzzles
 Water Aerobics
Aqua Fit
Pool Zumba
Water Volleyball
Lap Swimming
Ice Cream Socials
Taco Tuesdays
Fish Fry Fridays
Pub Nights
Happy Hours
Pot Lucks
Horse Shoes
Karaoke
Music with Keith
Dance Bands
Music with Dennis & Friends
Men's Golf
Ladies Golf
Mixed Golf
Fun League Golf
Putters
Glow Golf
Basketball
Bocce Ball
Bocce Glow Ball
Exercises
Ladder Ball
Pickleball
Shuffleboard
Volleyball
 We are looking for volunteers for the upcoming season that want to share their crafting skills, or provide instruction to those who want to learn something. We know our park is filled each year with so much untapped skill and talent or just the love of the game. Please call or email and let us know what you love to do. 760-554-7049 or riobend@westwindenterprises.com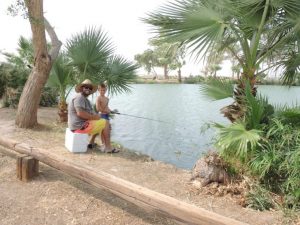 Don't forget the fishing!
 Dove Hunting season started the first of September and we shared our beautiful RV Park with several hunters which included lots of Dads and sons like the ones you see here. They found time to add fishing to their agenda and had caught a couple bass and several bluegills. Of course, they put them back for you to catch when you come, as our fishing ponds are strictly for catch and release.
UNDER CONSTRUCTION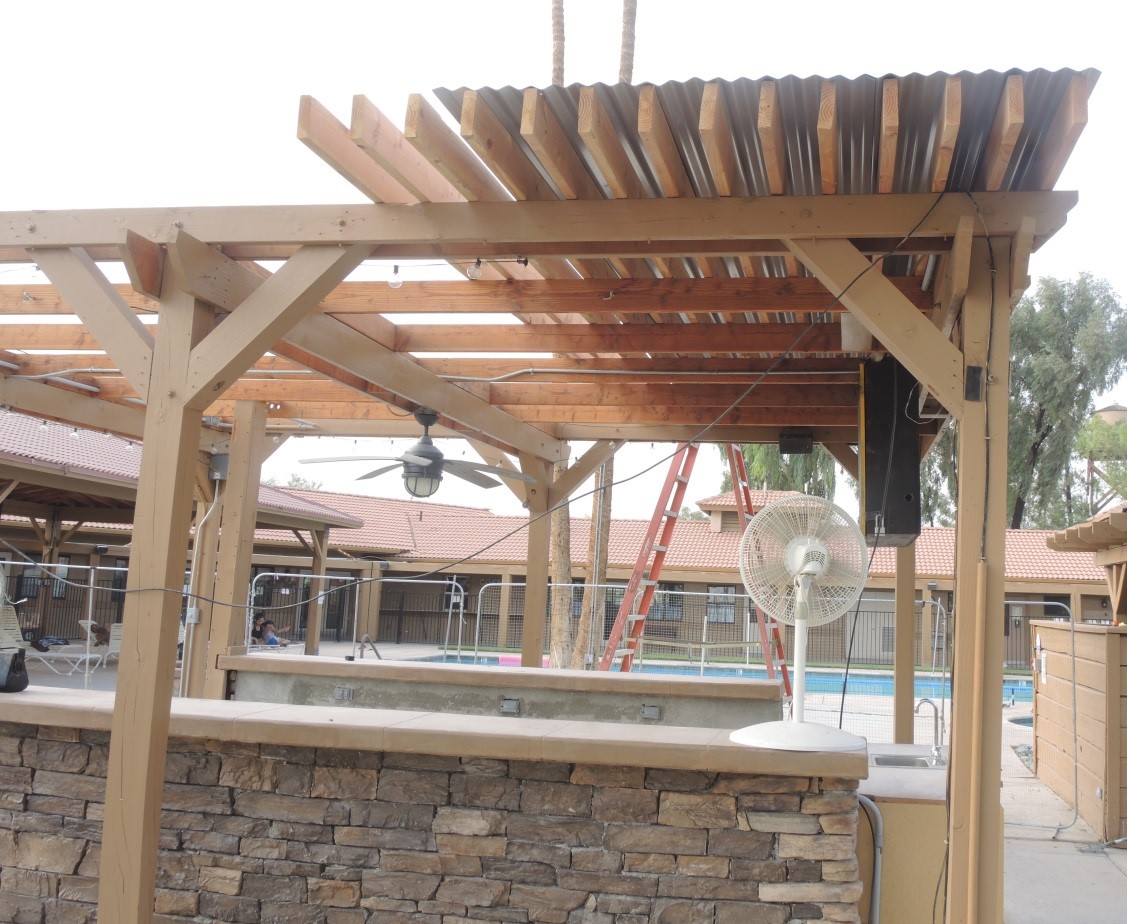 The Pool Bar area is under construction with some major patio improvements for enjoyment. We are upgrading the electricity in the Bar area, so we can expand on our menu options. We are upgrading the roof.  We are excited about improving the lounging area with another new large fire pit, perfect for a cozy and warm evening ambiance.
Concrete will be poured and the footings for the Arbor are ready for construction. The Arbor, like the Portico and bar, will be a comfortable, cozy area to gather around with gas heaters, lighting and windscreens for perfect social enjoyment.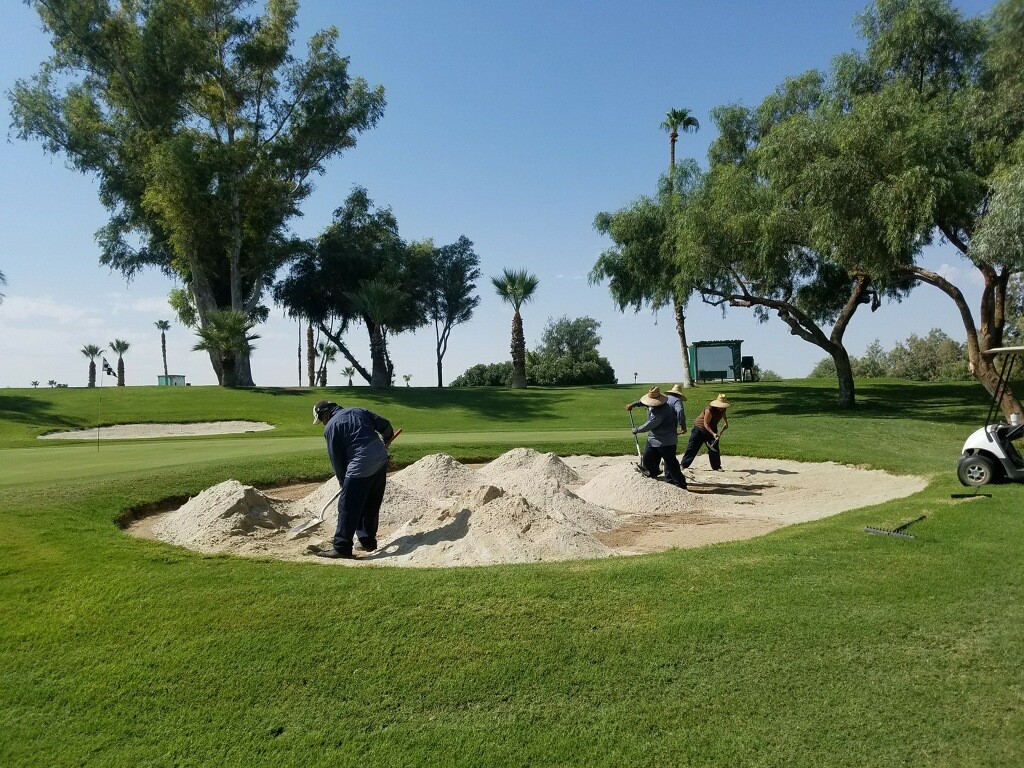 We really appreciate the work our guys do, especially during these HOT summer months!  We recently improved our putting green landscape area with beautiful "white sugar sand" which looks absolutely stunning with the luscious green grass.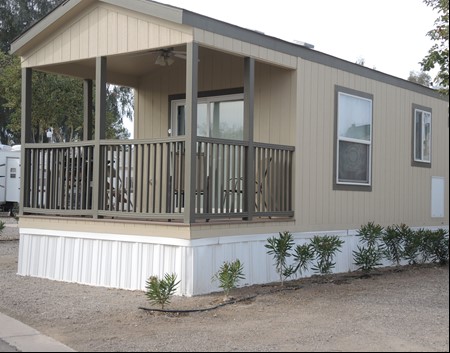 Do you know anyone who wants to Invest in a new vacation home at Rio Bend? And avoid dealing with the expenses of travelling? Our Beautiful Modern Park Models & Villas are affordable, and are designed to meet all of your home living needs and can be customized to cater to the ultimate recreational "Home Away from Home". Contact our office at 
 760-352-7061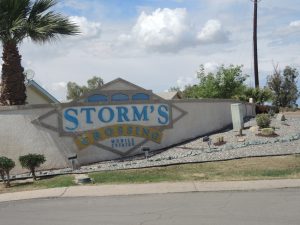 When you purchase a home at Storm's Crossing, you will receive a Non-Transferable membership for (2) residents at Lakeview Golf Course
 The entertainment line up this season will  give you something to look forward to. We have some returning favorites, and some new entertainers.
Shows include:
Kenny Hess – January 17, 2018
Laughing Bird (Janey Kenyon) – January 31, 2018
Elvis (Danny Vernon) – February 21, 2018
Dave & Daphne Show – March 7, 2018
Canadian Irish Show (Robert Shortt)- March 17, 2018
Entertainers and Dance Bands filling our weeks with music include:
Capital 64
Alamo River Band
20 Flight Rock Band
Dependables
Keith Meloche
And More!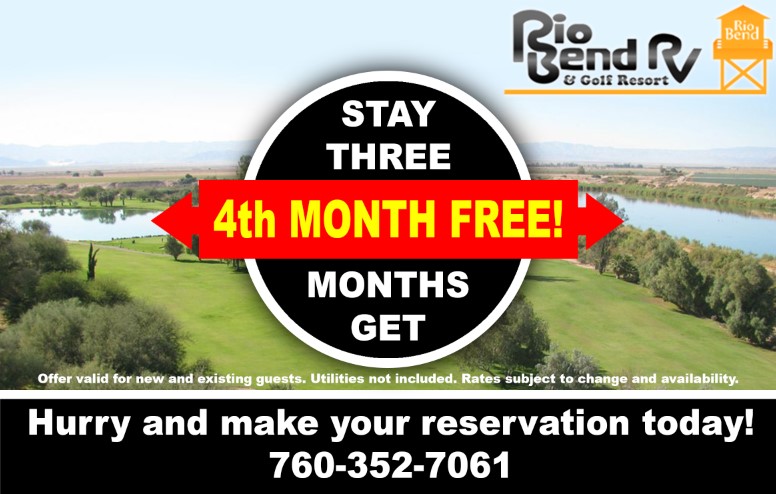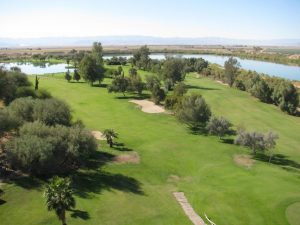 REFER A FRIEND
Refer a friend for a 3-Month Stay and we will give them a 4th month FREE Click on the Website Link below for a brief virtual tour of Resort Living:
http://www.riobendrvgolfresort.com/gallery-video/welcome-rio-bend-rv-golf-resort/?pageview=gallery
TO QUALIFY REFERRAL MUST:
Hurry and book your reservations
Not have stayed at the park for the last 3 years.
Be referred prior booking their reservations and
 must state your name when they reserve
Stay a minimum of 3 months.
Pay for their entry stay on or before registration.
This is a credit voucher with NO CASH value and is non-Transferable.  Must be used season of check-in.
PLUS, to show our appreciation, you'll earn credit toward your stay with us!
Refer a friend for a month stay and receive $100.00
Refer a friend for two months stay and receive $200.00
Refer a friend for three months stay and receive $300.00
Refer 2 friends for three months stay and receive $750.00
Refer 3 friends for three months stay and receive $1,200.00
Call TO FIND OUT HOW YOU CAN EARN UPTO $3,000.00!
 Phone: 1-800-545-6481                                                          Website: www.riobendrvgolfresort.com